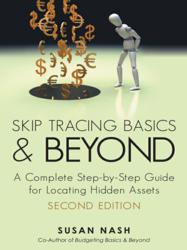 New York City, NY (PRWEB
) February 05, 2013
Finding people and hidden assets that do not want to be found is not an easy task, even for the most experienced investigator.
However a new how-to guide entitled, Skip Tracing & Beyond, written by expert Susan Nash, reveals the trade secrets and phenomenal techniques that she has used for decades to successfully and lawfully locate anything and everything trying to disappear. Nash's successful locations include bank accounts, stocks and bonds, mutual funds, real property and rental income amongst many more.
Nash has a degree in accounting, making her approach and perspective on skip tracing much different than that of a private investigator. Skip Tracing Basics & Beyond offers new secrets to put in the reader's bag of tricks.
Nash not only reveals the latest and most important resources and tools for the skip tracing industry, but also gives the reader the best method for reaching their goals.
No stranger to the frustrations that come with skip tracing, Nash gives readers constant motivation. "Your own limits are your acting abilities. Keep might and right on your side because innovation is driving success," Nash says. "If you are ready to put these secrets to use, you will recognize them."
Skip Tracing & Beyond
By: Susan Nash
Paperback: $29.95
ISBN: 978-1-4759-5756-3
Availability: http://www.amazon.com, http://www.barnesandnoble.com and http://bookstore.iuniverse.com/.
About the Author
A Buenos Aires native, Susan moved to New York when she was five years old. Since then she has always strived to do her best, which shows in her accomplishments. Susan is president and founder of Search-Net Management, which is one of the industry leaders in Asset Location. Susan is also a Forensic Accountant, Investigative Consultant and Auditor. Along with her work experience, Nash holds a baccalaureate degree in accounting from Queens College. Susan also conducts seminars about Skip Tracing and Personal Growth.
Source: http://www.prweb.com/releases/2013/2/prweb10379866.htmhttp://www.prweb.com/releases/2013/2/prweb10379866.htm